Skirt Gone Wrong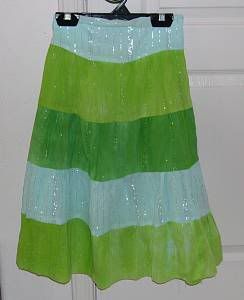 Well I sewed up the pieces of the skirt. I did not have enough fabric for the last tier of the skirt. It was Ok and it turned out long enough. Even sewing the zipper went very well. Unfortunately after putting the zipper in I tried on the skirt, and it was way too big. In the picture above the skirt is folded on the sides to fit into the hanger clips. Also it is very see through and I would need to sew a lining inside. It was a great learning experience and I think I will attempt to make the skirt again with the white summery fabric I purchased just make it in a smaller size. While sewing the skirt this weekend darling Hubby asked if I was making a costume. I sarcastically remarked "Yes! It is for mardi gras". He said "really". Gotta love'em, or do I? I am over this skirt and I have thrown it in the fabric stash pile.
Plants and Gardening
This is my favorite plant pot in my house. I have other plants in my house that I like more but this is my absolute favorite pot. I got it from the Disney website last year when it was on clearance and out of season. It is a large teacup with a saucer. It has an illustration of Alice in wonderland with the Rabbit. It makes me smile every time I look at it.
Many of the outdoor plants are coming out of dormancy. Here are a couple of my Irises getting ready to bloom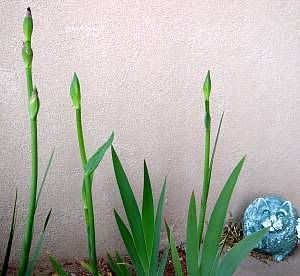 Here are some Daffodils popping out of the ground.
I have my fingers crossed that we do not have a late frost.
Diet Crunch Time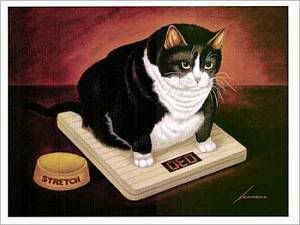 "Stretch Kelley" by Lowell Herrero
Unfortunately for the month of February I did not loose any weight. I did keep off the 5 pounds lost in January but no progress since. It is officially Go Time. We are going on a family cruise to Hawaii in May with my in-laws. That gives me two months to get into shape for a bathing suite. I am horrified at the thought of trying on bathing suites at my current body state. I definitely want to enjoy my vacation and not worry about how I look while on it. So with that motivation I plan to stick to the diet and plan to exercise regularly.