MOOving Along
Webshots Photo
Just giving an update on our progress with the house and moving to the country. We have decided to back out of the house that we put an offer down on. We met with a contractor to discuss remodeling and fixing up the old house that was on the property. It was turning out to be a major project. We decided to keep looking to find something more move in ready. Sometimes you need to write out a list of all the good things and all the bad things and if the list of bad things is much longer than it is time to move on.
Knitting Update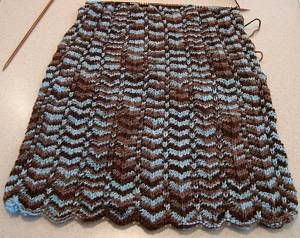 Here is my progress on the table runner. This is a very addictive pattern. I have neglected my other projects on the needles and keep picking this one up to work on. I just started my second skein and think I'm about at the half way mark.
Skirt News
Thanks everyone for all the positive comments on the skirt that went wrong. I think I am going to try putting in elastic to see if I can make it smaller. If not I might try the darts. It can't hurt to try.
Blog News
I am currently working on setting up a new blog. Once it is presentable I will put the link for you guys to go see it.