New WIPs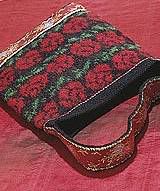 Dalegarn - Felted Rose Purse
This is one of my next projects. This felted Rose Purse Pattern is in Book Number 130 of Dalegarn (Dale Of Norway). It is an accessory pattern book. You can look at the patterns in the book
HERE
.

The second version of the felted Rose Purse
I plan to do the first version with a ribbon strap.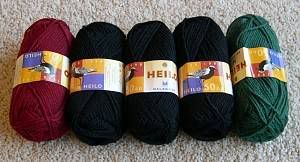 I bought this Heilo yarn for this project last year and it has been sitting in my stash for awhile. Three black 0090, one wine 4246, & one tartan green 7562. It is 100% Pure New Norwegian Wool. It should felt nicely. I just need to pick up a circular needle this week in the correct length and I can get started. I have a zillion needles does it not figure I have the right size just the wrong length.
#2 WIP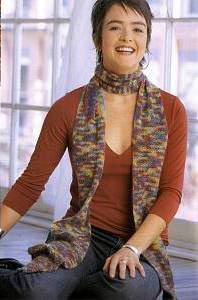 Dewdrops scarf
This pattern is from the book Exquisite Little Knits.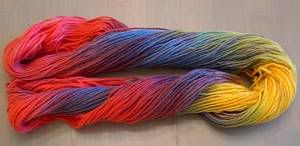 I bought 1 skein of Makula Cashmere in color Enchanted.
Here is a look of the other colors available in this 100% cashmere yarn.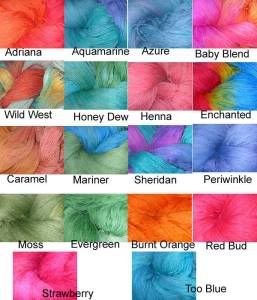 I bought the yarn at
Knit N Tyme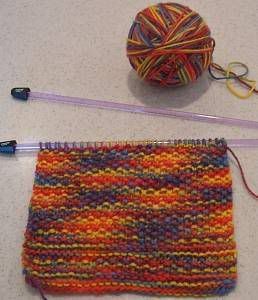 I cast on and this is as far as I got. This yarn is so soft and lovely. I think it is the perfect yarn to wrap close to the skin. I almost wish I did not like the cashmere because it is so pricey. Thank goodness pattern only calls for one skein.
#3 WIP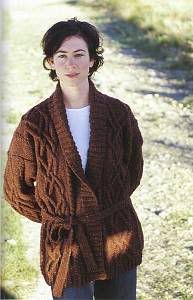 Bridget – Jo Sharp Book Number Two
This is my next big project knit.
Here is another picture in a different color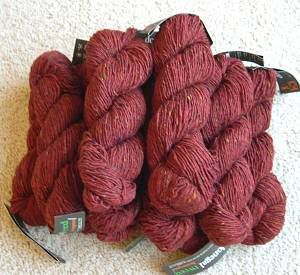 I had this Donegal Tweed Homespun in color 880 in my stash. It has been there for at least 8 months. I originally bought it for a pattern in one of my Vogue issues. I decided I would rather make Bridget with this yarn. Lesson learned: Don't go crazy and buy a ton of yarn that is going to sit in your stash so long you decide you no longer want to make the pattern it was originally bought for. This yarn will have a happy ending but looking at my stash, I definitely am cutting back on my yarn purchases. In fact I plan to knit mostly from my stash this entire year. Of course there will be exceptions.
8)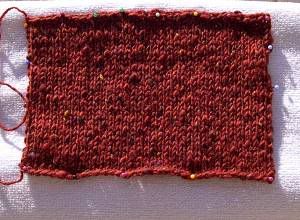 I am in love with this sweater. I think it should be a good challenge for me I made a swatch and checked my gauge. It looks like I am right on target. I believe this yarn will do nicely for the pattern.
Thank You
I wanted to thank every one for the e-mails and the comments on the Rowan Air Cardi.
You guys are the best.
- Next post DIET update.