Knitting in the Moonlight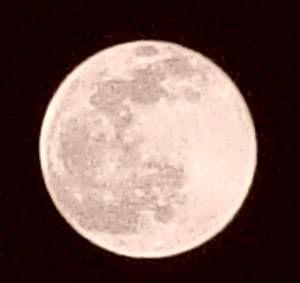 We have had a full moon the last couple of nights. I took some pictures but they did not come out that well. I found this picture on Webshots and this is basically what it looked like in my night sky just add a couple of twinkling stars and that is it. I have been diligently knitting every evening on my Butter Bear sweater. I finished the front. I had some troubles shaping the neck area because I miss read the pattern. Once I figured out what it meant I ripped it out and started the neck shaping again and it turned out fine. Now I am working on the back. I am excited to get them both connected and start shaping the collar. This is all new to me and I am learning a lot. I mostly cannot wait to get to the sleeves to try my hand at intarsia. I am trying to get a good portion of this sweater finished before I start the Weasley Sweater. Like I said, I am learning so much and I think it will come in handy when I start the Weasley.
I would like to put a word in for Banned Books Week and to celebrate the literature others have tried to suppress.
Here is a list of 50 of the most frequently banned books of the 1990's
Impressions Edited by Jack Booth et al.
Of Mice and Men by John Steinbeck
The Catcher in the Rye by J.D. Salinger
The Adventures of Huckleberry Finn by Mark Twain (Samuel Clemens)
The Chocolate War by Robert Cormier
Bridge to Terabithia by Katherine Paterson
Scary Stories in the Dark by Alvin Schwartz
More Scary Stories in the Dark by Alvin Schwartz
The Witches by Roald Dahl
Daddy's Roommate by Michael Willhoite
Curses, Hexes, and Spells by Daniel Cohen
A Wrinkle in Time by Madeleine L'Engle
How to Eat Fried Worms by Thomas Rockwell
Blubber by Judy Blume
Revolting Rhymes by Roald Dahl
Halloween ABC by Eve Merriam
A Day No Pigs Would Die by Robert Peck
Heather Has Two Mommies by Lesley Newman
Christine by Stephen King
I Know Why the Caged Bird Sings by Maya Angelou
Fallen Angels by Walter Myers
The New Teenage Body Book by Kathy McCoy and Charles Wibbelsman
Little Red Riding Hood by Jacob and Wilhelm Grimm
The Headless Cupid by Zilpha Snyder
Night Chills by Dean Koontz
Lord of the Flies by William Golding
A Separate Peace by John Knowles
Slaughterhouse-Five by Kurt Vonnegut
The Color Purple by Alice Walker
James and the Giant Peach by Roald Dahl
The Learning Tree by Gordon Parks
The Witches of Worm by Zilpha Snyder
My Brother Sam Is Dead by James Lincoln Collier and Christopher Collier
The Grapes of Wrath by John Steinbeck
Cujo by Stephen King
The Great Gilly Hopkins by Katherine Paterson
The Figure in the Shadows by John Bellairs
On My Honor by Marion Dane Bauer
In the Night Kitchen by Maurice Sendak
Grendel by John Champlin Gardner
I Have to Go by Robert Munsch
Annie on My Mind by Nancy Garden
The Adventures of Tom Sawyer by Mark Twain
The Pigman by Paul Zindel
My House by Nikki Giovanni
Then Again, Maybe I Won't by Judy Blume
The Handmaid's Tale by Margaret Atwood
Witches, Pumpkins, and Grinning Ghosts: The Story of the Halloween Symbols by Edna Barth
One Hundred Years of Solitude by Gabriel Garcia Marquez Scary Stories 3: More Tales to Chill Your Bones by Alvin Schwartz