The Day after a Crafters Long Weekend
Sadly, the holiday weekend ended. I had a wonderful time working on my WIPs. Even starting a new one. Imagine that.
First up The Weasley
This sweater is coming out nicely. I cannot wait to finish the front so I can start the sleeves. I still have hope that I will finish this one by Christmas. Here is an updated picture of my progress. Cosmo is checking out my fine workmanship.
Second up The Memory Quilt
I know I have not worked on this in a long time. For you new comers you can read up about the quilt over in my Work in Progress list to the right, there is a link you can click on. Cosmo has been so helpful this weekend. Here he is sitting on top of my sewing box so I cannot get into it.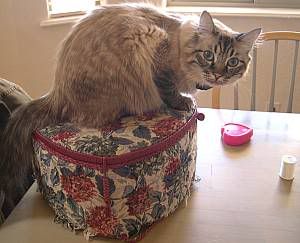 I finally started quilting the front and back together. I am using my sewing machine to do the quilting. I use a walking foot so I am able to quilt with such thickness of two layers of fabric that sandwich the batting. The walking foot allows the thickness to be pulled from the top and the bottom allowing the quilt to smoothly move backward allowing the needle to do the sewing. With out the special walking foot the thickness of the fabric would only be pulled from the bottom creating a mess.
I am using clear nylon thread to do the quilting. I have never used nylon thread before. It is slippery and hard to see. I am starting to get the hang of it. I started in the center of the quilt and quilted around the center square. Following this method I continued outward and have outlined each of the 25 squares. Now I am starting back in the center and will outline the details of each of the squares. Here is a picture of what is going on.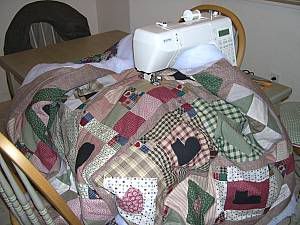 It is turning out nicely. This being my first quilt I am very proud of the way it is turning out.
Lastly A New WIP
I know I know, Why am I starting a new project when I have so many unfinished projects on my plate. I call it the curse of the Knitter. There are so many cool things I would like to make it is hard not to try and start a new one. I still consider myself a new knitter because there is so many things I have not tried or made yet. One of the things I was afraid of but really wanted to learn was Cables.
There is a bag I would like to make, the pattern is in the latest Rebecca book. Of course it has cables in it. I thought I should try to learn cables on an easier project first. That is when I found The
Irish Hiking Scarf along
. The
pattern
seemed like an easy way to try and learn cables. I bought some wool-ease worsted weight yarn in color denim and some cable needles. I printed out the pattern and placed all items in my stash to start after the new year, when some of my other projects have been completed. Well Thanksgiving morning came around and I started watching the parades. I had the whole day ahead of me full of happy knitting and quilting. I thought to myself maybe I could just start the cabled scarf. Then I was overwhelmed with excitement of learning something new. I busted out the stash and began to learn cables.
Here is a picture of the birth of my very first cables. Oooo! How cute maybe I should name them?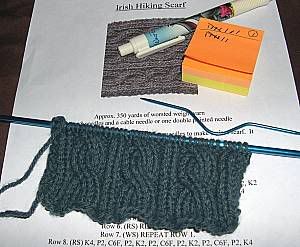 Cables are easy. I cannot believe I was scared. They are almost fun. This pattern is an excellent one to learn cables. Therefore, if you are like I was and am afraid of cables. I am telling you, You can do it. I promise. Give it a shot. Here is the final picture of my progress on the Irish Cable Scarf.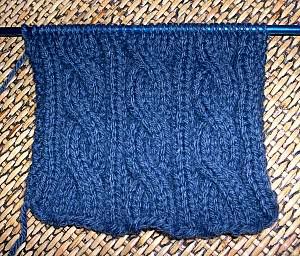 Goodbye to Free Time
One thing that weighed heavily on me this weekend was the fact that this was going to be the last long weekend of free time for a while, due to our upcoming business opening. Starting today, Chris and I will be very busy doing last minute setting up. We start computer training for the employees on the 6th of December. Then Open our doors for patients on the 13th. At this point, I have a pit in my stomach of my up coming responsibility and overwhelming workload.
Unfortunately, for the next month I will not be able to post as much as I would like. Any spare time I have, I am sure I will be preparing for the holidays & working to finish some of my WIP's before Christmas. I will post my progress on my crafts when I get a chance. I am hoping by the start of the New Year life will get back to a normal speed for me.
I hope everyone has a wonderful week of turkey left overs. 8)