Momma's Got a New Bag
That is RIGHT, or shall I say a new Bagless. The hubby and I turned in our credit card points to purchase a high end vacuum. Who needs airline miles to Italy when you can buy an over priced sucker like this beauty.
Say Hello to my little friend (In my best Al Pacino impression)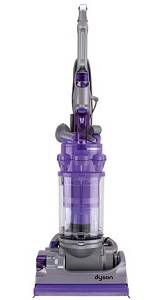 This is the "Animal" made by Dyson
Let me tell you with two dogs and a cat the hair in this cave is overwhelming. This vacuum is awesome. We brought it home yesterday and both Chris and I have been fighting over using it. Let me tell you my house is now completely vacuumed from corner to corner.
Cosmo is not one to pass up a new box.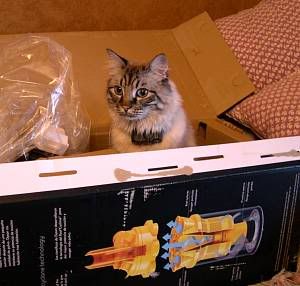 A Look at the Garden
Today is such a gorgeous day outside, I could not help but venture out and see how the garden is doing in my absence.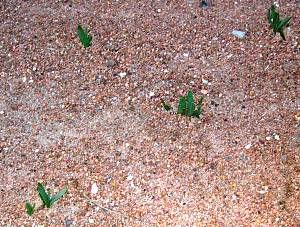 Looks like my Daffodil bulbs are starting to come up. I hope there will not be a late frost. I enjoy planting bulbs. They usually are the first things in my garden to indicate Spring is not to far away.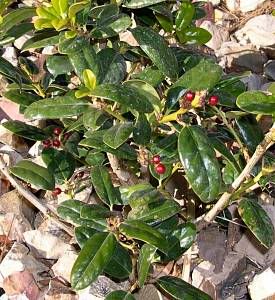 This is the little Holly bush I planted last Fall. See the little berries. I am looking forward to having lots of berries in a couple of years. I have big plans to use them for decorating around Christmas. It is the little things that excite me.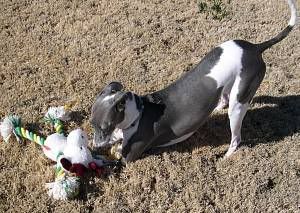 Haley could not help enjoying the great weather by bringing outside her Christmas toy given to her from her grandma's. No holes yet to report.
Not Much Knitting
This weekend I have been on the computer playing around, and looking at all the blogs listed on the SP4. So many great reads to add to my list of regulars.
I did pick up a new CD this weekend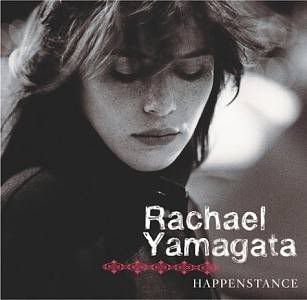 Rachael Yamagata "Happenstance"
I love this CD. It is a great mellow listen. I have had it on all weekend. I am sure Hubby is sick of it by now. Her songs come from an emotional base. You can tell some one wronged her along the way. I would classify this CD along side my Norah Jones "Come Away with Me". You can listen to samples of the songs on Rachael Yamagata "Happenstance" at Amazon Right
Here
.