Memorial Day Weekend Trip
Hubby and I are heading to Vegas Baby!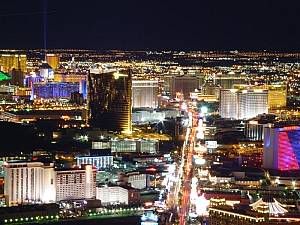 Webshots Photo of Las Vegas Strip
We are not big gamblers; we like to go to Vegas for the shows and the great restaurants. Plus it is such an exciting place to be compared to the small town we live in. I plan to bring the lace scarf I am knitting to work on when I can. It is a good size project to bring it does not take up to much room and it is a simple pattern that does not require too much thinking.
I also picked up this book to bring on the trip
Confessions of an Ugly Stepsister by Gregory Maguire
I first learned about the Author Gregory Maguire about 4 years ago. I picked up his book "Wicked-The Life and Times of the Wicked Witch of the West". I was in Iowa at the time for some training. It was a great and interesting read. What he does is he takes a fairy tale and turns it around looking at it from a different perspective. His work I would say is very imaginative. A warning to anyone thinking of reading one of his books, they are dark and sinister. If you go back and read the original fairy tales as they were written, you will find that the stories are very different than the ones we have grown to know through Disney and other fluffy happy venues. I do love the fluffy happy stuff, but sometimes I enjoy a little bit of wickedness and like to see the dark side. It should be a fun read for my trip to Vegas.
Knitting Update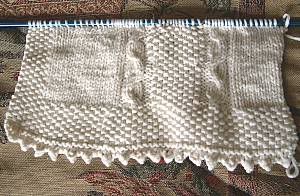 Here is my Rowan "Air" Cardi. I finished the back and started the left front. It is working up easy. I still love this pattern it is a lot of fun, and it keeps me interested. Of course I have not hit the sleeves yet. I plan to do a sleeve after this left front. Then do the Right Front and end with a sleeve. Reading other knitter's blogs it sounds like that is the best way to do it.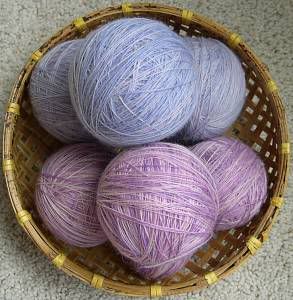 I also managed to get all of those hanks into balls. It was definitely a work out for my arms. Only one of the hanks had a knot in it where the yarn had pulled apart. I usually just end the ball there and cut the knot out and start a new ball with the remainder. I have found that if I knit with the knot there it always feels like a lump in my knitting. I am so pleased with the color of both of these hand-dyed yarns. I think both will be great for summer.
Toot-Sweet, I will catch you all when I get back from Vegas.
Have a great Memorial Day Weekend!