African Violets Blooming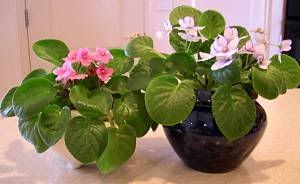 My houseplants have severely dwindled down since my cat Cosmo has come to live with us. Cosmo is famous for jumping on attacking and giving no mercy to my houseplants. I have managed to salvage a couple that I keep hidden in a room that the door remains closed. I also have a terrarium that I keep a handful of plants. My two African Violets live in the terrarium. They have been blooming all year. They love it in there. I use a special fertilizer specific for the plant once every two weeks. I do have two orchids that live right next to them that have never bloomed. They are both Phalenopsis type orchids. I got one about 6 years ago around Easter at an Orchid Show in Portland Oregon. It was a baby and had not bloomed yet. The second one I got last year at Lowes on the clearance rack it was not blooming either. I am a sucker for plants on the clearance rack. You know the ones that are half-dead. I feel like they are calling to me "please save us!" So anyway, I am still waiting for them to bloom.
Here is an updated photo of the fountain grass. I bet Cosmo would love to play in that grass. My pink dwarf Oleanders are beginning to bloom also.
I am starting to get excited about planting this fall. I am still deciding on the plants, that is half of the fun.