Happy Halloween
I carved two of my pumpkins. The third one was a little moldy so I chucked it. I wish I had a catapult so I could have really done some pumpkin chuckin, but I do not. Therefore, I just tossed it in the trash. Here are my carved masterpieces.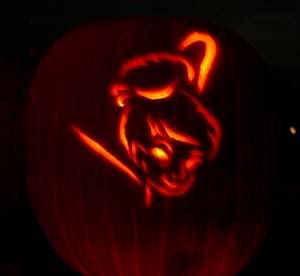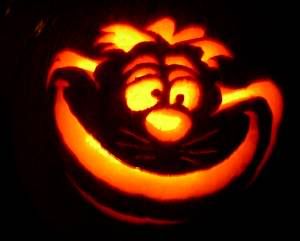 One is of Tinkerbelle and the other is the Cheshire Cat. I got both patterns from a Disney pumpkin carving kit. When I was carving the Cheshire cat face it was a little scary because I thought the mouth was somewhat big and that it was going to fall into it's self. Luckily, it stayed put.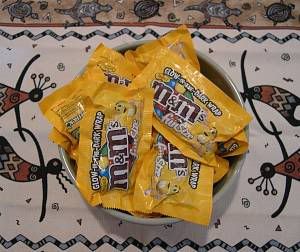 We picked up a bag of peanut M&M's to hand out to the trick or treaters. We live on a cualdasack and it is very spooky at night just on a regular night. Last year we only got one trick or treater. We are expecting the same turn out. I prefer the regular M&M so that is why I picked the ones with the peanuts. I do not need that kind of temptation sitting around. Now if they were the regular M& M's that bag would not have a chance it would be gone before Thanksgiving or even sooner. Chocolate is my weakness.
This weekend there is a huge celebration that goes on called THE DAY OF THE DEAD. Mexicans celebrate it and since we are very close to that culture here, many of the festivities take place in our town. I will tell you more next week after I learn more about it. From what I understand so far, it is celebrating in honor of loved ones that have passed. It looks interesting.
Many Bloggers I read have some changing events taking place in there lives and I too have some major things going on. Change must be in the wind. I think that might be a good sign. I will talk more about the upcoming changes in my life next week. I am starting to feel like a soap opera. I am leaving with just a glimpse on Friday hoping you will tune in next week to see what it is all about.
Have a Happy and Safe Halloween!
P.S. Don't forget to set your clocks back an hour Saturday night. 8)