Summer Knitting
A Thoughtful Unexpected Present
Hubby went out shopping for computer stuff and was there before the store opened so he stopped at the book store to kill some time. When he got home he had a big grin on his face and told me he got me something. He brought the bag over and handed me this book.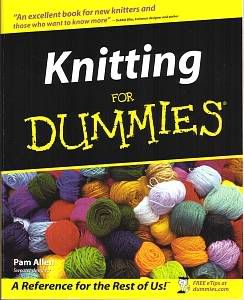 The look on his face I could tell he was proud of himself. I tried to keep my expression in a non readable one. At first glance I thought to myself, am I that bad of a knitter. Maybe I have let too many four letter words slip from my lips while knitting in the presents of my husband. But then one more look at Hubby's excited face I new it was a gift from the heart. It does say on the cover for new knitters and THOSE THAT WANT TO LEARN MORE. Maybe there would be some stuff in there that would teach me an easier way to do something. Also hubby was thinking of me while he was out and about and thought it was something I would like. More and more I was so pleased with him for taking the time to bring me home something to do with the hobby that I have grown to love. I thanked him several times.
Later that day I was sitting in front of the computer and was thinking about him and the gift he bought. Then I started to LOL picturing him buying the book titled Knitting for Dummies which he purchased with a car magazine. I wonder what the cashier was thinking. I wonder how that conversation went. I still giggle thinking about it. I am so lucky to have such a great guy that thinks of me and brings me home a present out of the blue.
Finished Object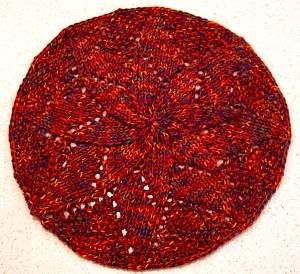 I found this free pattern titled Yvonne's Double Flower Cloth. It is knit on double pointed needles. In the pattern she prefers using 5 needles. I used 4 because it is easier for me to control them when they are in a triangle. Either way it works out fine. It knit up quickly. There are only 35 rows. In the pattern it shows the flower cloth in a white worsted weight cotton. I had a ball of Tahki Shannon in color 14 in my stash and decided to use it for the flower cloth. I thought the flower kind of looked like a poinsettia. So I thought I would use it as a doily around the Holidays. It might be cute as a wash cloth done in chenille. Here is a photo of the flower cloth on a window to show the detail.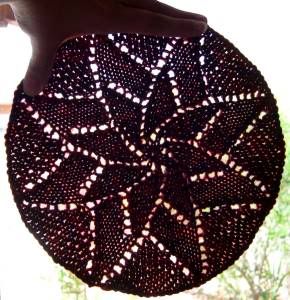 You can find the pattern
here
.
New on the Needles
I cast on for the Moira Bag from Rowan Book 27
It does not look like much but I did start it twice. The pattern calls to make two sides, one for the back and one for the front. I originally cast on with regular needles for the front and got through about 7 rows of the pattern, when I realized after I finished one side it would take a lot for me to make another one. So I decide to do the whole thing at once using circular needles. Now I can do the front and the back at the same time. In case you missed it in my earlier post here is what it should look like when I am done.
I hope to finish this one in time for a little vacation I am taking at the end of August with my best friend, my Mom and her friend. I am sure I will need to line this bag due to the Fair Isle design and having so many running strands of yarn on the inside. This is going to be a labor of love. I love the look of this bag although it is going to be time consuming and I will need to be careful to follow the Fair Isle pattern.
Update on the Air Cardi
I am still moving along on the right front. Every time I pick this back up after not working on it for awhile I am always amazed at how much I love working this pattern and can't believe I put it down for several days. Me and this Cardi go together like peas and carrots. Well I don't like veggies so I will say we go together like cookies and milk. I love the "calmer" yarn. I definitely will use this yarn again.
That is about where I am at for my summer knitting. I am still also working on the lace scarf. I like having a couple of projects on the needles. I never understood before when I would read other people whom had several projects going on. I like to be able to knit as to how I am feeling at the time. Some times you just want to do mindless knitting and other times you might have the time and the patients to work on something more intricate and detailed.
A Look into my Garden
As you know I live in the desert. It surprises me that anything can bloom at this time of year with temperature around 100 everyday.
This is one of my crepe myrtles. The blooms kind of remind me of lilacs.
Here is one of my Rose of Sharon. It is starting to bloom. I think they are also known as Hibiscus.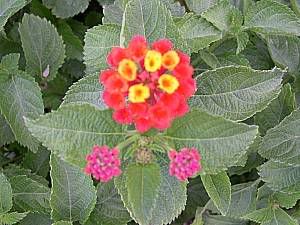 This is a Lantana. This plant always attracts lots of bees to pollinate my flowers and also attracts humming birds.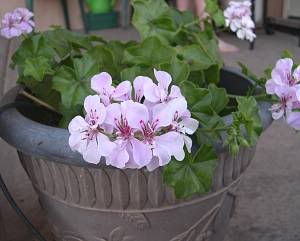 This is an Ivy Geranium. It has come back 3 years now. I leave it outside all year round. It gets morning sun and afternoon shade.
Hope everyone has a good week. Can't wait for the long 4th of July weekend coming up.